all started well today. very well, in fact. anaya and catori had vbs, and tirzah and i enjoyed one another's company. we packed a lunch for all of us, then headed out to pick up the girls from vbs. daddy and i shared lots of excitement, for this was the day we were to hear our baby's 17 week heartbeat. the girls were just thrilled to have a "car picnic" on our drive to the doctor's office. come to think of it, none of the three asked WHICH doctor we were going to.
dr. c welcomed us all into the tiny room and enthusiasm was palpable. i rushed through my mental list of questions, and reclined on the table, preparing to hear that most beautiful music in the whole world…our babe's strong heartbeat. i wasn't nervous at first, especially when dr. c said "between the tipped uterus and most likely placenta in front, it will just take a few minutes." she prayed and sighed, moved that wand across every centimeter of my large belly. comments i remember were "your uterus is the right size" and "my goodness, this child is stubborn!" that last one made me giggle. those who know and love me realize just how bull-headed german i am…through and through.
the girls were really loud, and stressing me out. i put my hand up like a stop sign, intended for ryan to see. our doctor, about that same time, said "dad, i'm going to need you to step out with the girls. just can't hear like we need to." within minutes of that, she told me "we're going to run over and ultrasound you. betcha michelle is on lunch break and we can just pop in real quick."
silently, with my dear-in-the-headlight eyes and sick feeling tumbling in my stomach, i followed, and motioned for daddy and the girls to follow us. praying the whole way…while trying so hard not to stumble as my reluctant feet trudged towards that room. the room that i suddenly felt contained doom. michelle stepped out, and dr. c confirmed her suspicions. "i'm. so. sorry…there's no heartbeat…this is recent…very recent…within days."
she continued "you're not going to be able to process what i'm telling you right now." with our two losses of last year so fresh in my mind, i asked "do we have to do another dnc? or can i PLEASE just do cytotec again…at home?" sadly, she shook her head no "your baby is fully formed and the placenta is a healthy size…if I had you do this at home, you would lose too much blood…and this might take several days. dnc is not an option that i could live with, nor would you get the potential chance to see your baby."
good gracious, LORD, i cried out…have MERCY!
she hugged me, then stepped out. michelle came in quickly thereafter, to confirm our daughter's heart which contained rhythm no more, and officially document measurements. we would need these at the hospital. the Holy Spirit took over in those moments, as I weakly asked "please tell me…were we having a girl?" anaya needed to know. daddy and i needed to know."  michelle replied "i'm not a guessing person, and baby's heel is right in the way…but i'm fairly certain i see three lines." minutes later, she affirmed her suspicions…"yes, these lines are so close together."
girl. once again, big sister knew…what the rest of us guarded our hearts, trying to not get overly attached with dreams of another daughter or first earthly son.
your sister and brother in Heaven held my shoulders to keep me from collapsing as i numbly walked towards the room where your daddy and sisters sat. on this day, i was to be the bearer of such heavy news. i pulled out the step on the bottom of the table…sat down shaking, chin quivering trying to trap the tears inside…and began to speak:
"i love YOU" reaching Daddy's sad eyes. "i love YOU" gazing into Anaya's hazel eyes she'd gotten from her daddy. "i love YOU" looking into Catori's beautiful blue eyes. and, finally "i love YOU" looking into 2-year-old Tirzah's brown eyes which mirrored mine. continuing, "God loves each of us, so very, very much. See, He knew that if our baby would be born here, she wouldn't be healthy. Anaya, you're right baby girl, this IS a baby girl. She will be happy AND healthy with Isaac and Gracelee in Heaven. But it hurts right now. Mama's gonna cry, and i hope when you feel the need to, i can help you do the same."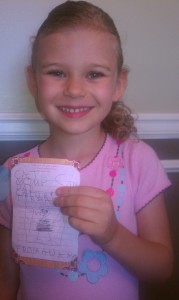 The youngest two were fumbling around the room, tiny fingers exploring the trash cans, gooseneck light, opening drawers. when i could stand that no more, i reached into the black hole (diaper bag) and found crayons, pens and three small notebooks. they each drew for a few minutes, absorbing the words their little ears just heard. catori spoke up next "daddy, i gotta go potty." daddy took she and T to the restroom, while anaya kept drawing. she asked "mama? how do i spell sarah?" little did i realize, she named her baby sister in that moment. we sounded out the name, then i asked her "do you feel like cuddling while you draw? if mama promises not to peek?" "no…thanks though," she replied.
the next question kind of cracked me up "do you want a tulip or a flower on your card?" i chuckled, "why not both?" she then crawled into my lap and proudly shared her artwork. in addition to writing all of our names, she included Sarah's name, AND a picture of her. showering praises on this beloved 5-year-old daughter of mine, she said "thanks!" and then "mama? did you know my sister Sarah has curly hair? she does!"
wow. faith and perceptivity of a child…our firstborn child!
after everyone was back in the room, we met with dr. c to discuss timeline and options. as God would have it, the very next day, she was going to be at the hospital. for a week. we were given the night to think about it…but both Daddy and i knew where we were headed in a mere 24 hours. before we left, catori shared HER artwork with me…and it was her first portrait i've ever seen her draw. guess what kind of hair SHE drew on her sister's gorgeous head? curly." goosebumps…Holy Spirit…i felt you move in that room in such a rushing-wind-powerful way.
for dinner, daddy took us out for sushi. though our hearts were heavy, we knew a celebration was in order…our youngest child was joining the Choir of Heavenly Angels! through the Lord's gentle nudge, our eyes were opened to a young mom walking outside, hand-in-hand with a small toddler, wearing a sling with babe. several times, they crossed in front of the window where we sat. all but the older sister were oblivious to our presence on the other side of the glass. the meal was delicious, and our girls were so well-behaved. catori even remarked of the waitress "she's so NICE!" mind you, catori is three. and packed full of compliments for others, i might add.
when we left, the family from outside was coming in to dine. "congratulations!" i told them "what a beautiful family you have!" and i meant every word. instead of experiencing sadness and mourning over our third baby that would reside in Heaven instead of on earth, God allowed me to feel genuine joy for them in those moments. how precious He is!
my eyes fell upon a necklace & earring set…turquoise…my favorite! i'd have to tell daddy about it when anaya and i joined him in the car. the "nice woman" who was our server had made the pair. we complimented her on the beauty of the piece, her lovely service and handsome young son, whom we had just met on our way out.
it was by the Grace of God that we slept that night. although it was staccato slumber, we rested in Him.